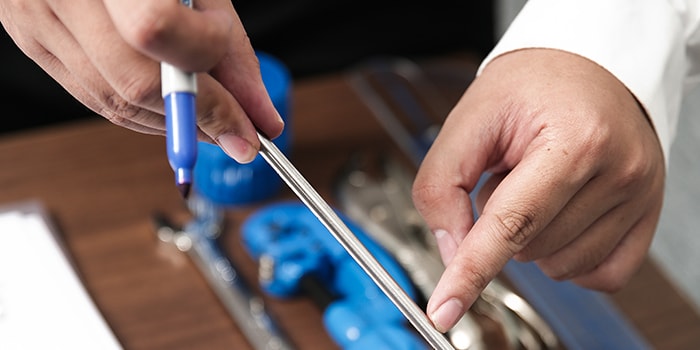 Essential Training in Fluid System Fundamentals
Swagelok Essentials training courses provide critical skills for developing, building, and maintaining dependable fluid systems. Taught by Swagelok-certified trainers at locations and times convenient to you, these courses provide a strong foundation of knowledge and the techniques behind fluid component systems.
Learn about the importance of training for GKS Research and Production Enterprise, maker of support systems for equipment operating in some of the world's most remote and aggressive environments.
Request more information about services and training on these topics:
Tube bending
Fitting assembly
Thread identification
Hose, valve, and regulator selection and troubleshooting
Request More Training Information
Tube Fitting Installation Essentials— Students will learn foundational tube fitting knowledge that ensures system integrity and minimizes leakage risks. The course covers proper tube selection, cutting, and deburring; assembly of a Swagelok® tube fitting; and gauging a tube fitting assembly. Visit our fittings products page.
Valve Essentials— Safety is a key consideration when selecting, maintaining, or replacing valves. Learn to choose the right valves for your applications by identifying proper valve types and functions, understanding key features and construction, and identifying common issues. Visit our valves product page.
Regulator Essentials — Regulator selection is a primary consideration when designing your fluid system. Learn how the right regulator for your application can help increase safety while improving efficiency, as well as regulator basics and how to identify and resolve common issues. Visit our regulators product page.

Hose Essentials— Understanding the fundamentals helps to extend hose production cycles, ensure safety, and lower total cost of ownership. Instructors introduce common terminology, explain variables impacting hose selection, and show how to select hose for different applications. Coursework includes common practices for conducting hose inspections and best practices for preventive maintenance. Visit our hoses product page.
Tube Fitting Installation Inspection Essentials— Proper inspection is instrumental in mitigating and minimizing risk of leakage. This course will teach students to identify correct tube system placement, correctly install Swagelok® tube fittings, and troubleshoot other common fluid system mistakes. Visit our fittings products page.
Hear how Swagelok helps New Flyer of America train its associates on fuel system installation and inspection.
Medium/High Pressure Cone and Thread Essentials— This course provides foundational knowledge in cone and thread preparation and installation. The goal is to enable safe, optimal performance of cone and thread fittings in medium and high pressure systems.
Tube Bending Essentials— Bending tube helps to eliminate mechanical connections, which can be a source for leaks in traditional piping systems. In this course, Swagelok instructors cover the basics of tube bending. Visit our tubing products page.