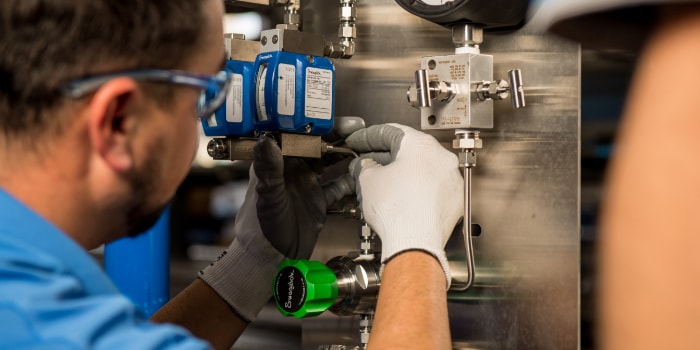 Take the Building and Testing of Fluid System Assemblies Off Your To-Do List
If you're short on trained personnel or simply short on time, Swagelok-trained technicians can provide an extra set of hands by fabricating your fluid system assemblies for you. You will receive a professionally designed, repeatable solution, with testing, inspection, and packaging included—all covered by Swagelok's Limited Lifetime Warranty.
We call these assemblies Swagelok® Custom Solutions. Custom Solutions can be small or large assemblies, consisting of a few components or a complete panel or enclosure. They always include high-quality fluid system components, but we can also incorporate wiring, automation, transmitters, relays, pumps, and more. Whatever your parameters, rest assured that you'll receive only the highest-quality assemblies, panels, or enclosures when you choose Swagelok® Custom Solutions.
Request information about design and assembly services
Save Time With Standard and Configurable Assemblies
Design, fabrication, and assembly specialists at Swagelok technology centers and local Swagelok sales and service centers have worked with businesses across the globe to add efficiency and reliability to their operations by delivering dependably designed and constructed fluid system assemblies. Standard Swagelok assemblies include:
Receive as Much Design Support as You Need
Fluid system design professionals are prepared to assist throughout the solution development process. We can follow your existing design, or you can work with global tech centers to develop a new or revised one. In any case, our approach is collaborative, as we work closely with you to ensure we understand the problem and are developing the configuration that most completely meets your needs.
A Look at Swagelok Design and Assembly Services
Hear how Swagelok design, fabrication, and assembly specialists can help you add efficiency and reliability to your operations.
Whether you have a preliminary drawing or just an idea, reach out for: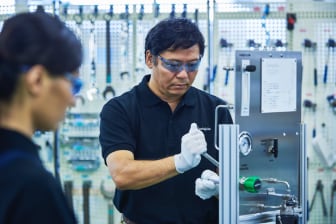 CAD drawings
Piping and instrumentation and diagram (P&ID)
Component selection and sourcing
Bills of materials (BOM)
Professional services, such as bending and welding
Testing of system performance
Professional packaging and delivery
You trust our components. Now trust our experts to create great fluid system assemblies.
Contact our Swagelok Vietnam hotline: +84 (0) 936 42 0804 or email to: sales@swagelok.com.vn.
Request more information about design and assembly services
Case Study: Fluid System Evaluation Leads to Production Continuity for Manufacturer
Customer
Manufacturing company
Challenge
"How do we discover leaks early to avoid scrapping assemblies?" A company was forced to scrap $12,000 worth of assemblies because leaks were discovered too late in production, leading to loss of revenue and reputation with customers.
Need
Assistance finding the reason for the leaks, improving quality assurance, streamlining production processes, and eliminating product and labor waste.
Solution
Swagelok field engineers identified the root cause of the assembly leaks was due to intermix/interchange of fittings
Leak-tight, fabricated subassemblies were provided through the Swagelok Custom Solutions program
Result
The company avoided a two-month backlog in production that would have resulted in 100 fewer units being manufactured, equaling $800,000–$900,000 in losses
View Our Customer Success Stories