Gaugeable Preswage Tool to Replace Non-Gaugeable Version in Select Sizes
The following non-gaugeable preswage tool sizes will be discontinued: 1/4 in., 3/8 in., 1/2 in., 5/8 in., 6 mm, 8 mm, 10 mm, 12mm, and 16 mm. The gaugeable version, which enables customers to quickly measure the gap between the nut and fitting body with a standard Swagelok gap inspection gauge during Swagelok tube fitting installation, will replace the discontinued non-gaugeable sizes. All other non-gaugeable preswage tool sizes are not impacted by this change and will continue to be available.
Effective May 28, 2021, no new orders will be accepted for the non-gaugeable versions of the preswage tool that have a gaugeable offering.
The table below shows the ordering numbers that are being converted.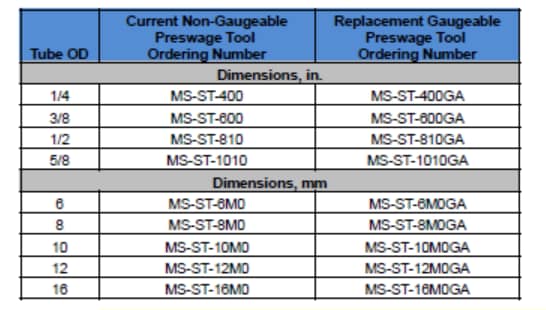 Please note: The instructions for the gaugeable pre-swage tool differ from those for the non-gaugeable tool. Reference catalogMS-01-140, Gaugeable Tube Fittings and Adapter Fittings, for non-gaugeable preswage instructions and instruction card MS-CRD-0110 for gaugeable preswage instructions.
Check out our official letter about this update.
For questions regarding these updates, please contact:
Ngoc Nguyen
Swagelok Vietnam QMR Assistant
Email: ngoc.hong@swagelok.com.vn
Hotline: +84 936 42 0804