ISO 5211-Compliant Pneumatic Actuator Instructions Move to QR Code
Effective April 16, 2021, the maintenance and operating instruction manual for Swagelok-branded ISO 5211-compliantpneumatic actuators manufactured by Air Torque will be available via a Quick Response (QR) code only. To reduce environmental impact, a small printout of the QR code will replace the leaflet included with the actuator/valve packaging. Non-MTS orders for specialized actuators will see this change immediately. MTS valve orders will transition to the QR code over the next three to six months, as inventory is consumed.
The following pneumatic actuator models are subject to this change:
A10, A15, A30, A60, A100, A150, A220

A15XD, A30XD, A60XD, A100XD
This change impacts the following ball valve product series with ISO 5211-compliant actuators:
One-Piece Instrumentation Ball Valves—40G Series and 40 Series

Ball Valves, General Purpose and Special Application—60 Series

Trunnion Ball Valves—83 and H83 Series

Swagelok Alternative Fuel Service (AFS) Ball Valves for High-Pressure, High-Flow Applications

Multipurpose Ball Valves—SK Series

Medium-Pressure Ball Valves—CTB/FKB Series

General Service Ball Valves, GB Series
To access the manual, the QR code can be scanned via an IOS or Android device. An image of the QR code is shown below: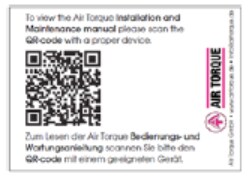 Check out our official letter about this update.
For questions regarding these updates, please contact:
Ngoc Nguyen
Swagelok Vietnam QMR Assistant
Email: ngoc.hong@swagelok.com.vn
Hotline: +84 936 42 0804