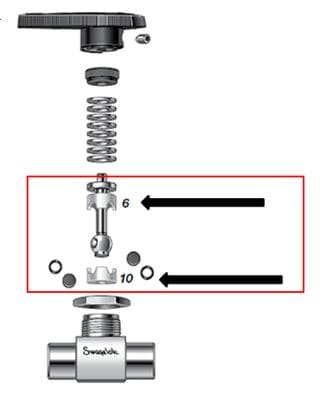 43T Series Valve Packing Material Change - Notification of Change
As part of Swagelok's ongoing commitment to implement continuous quality improvements to meet the performance needs of demanding applications, the upper and lower packing of the 43T series ball valve is changing from PFA to Modified PTFE/D1710 type 1,Grade 1, Class B material (TFM). The TFM material is the same material currently used in the 43G valve.
This change impacts the 2-way, 3-way, angle pattern, 4-way, and 5-way configurations of the 43Tseries ball valve only. The 43T series 6-way and 7-way configurations as well as 41, 42, 44, and 45 series valves are not impacted by this change at this time but may be evaluated for this change in the future.
There will be no impact to valve fit/function, pressure/temperature ratings, or certifications. Valve ordering numbers will remain the same. Numbers 6 and 10 in the illustration identify the components that are changing.
The implementation for this new packing will be a running change. As inventory of the PFA material is depleted, valve assemblies will transition to the new TFM material. Based on current inventory, the change in material will occur within approximately 6 months.
Until this transition is complete, it is possible that customers could receive valve orders assembled with either the PFA or the TFM material. Controls will be put into place to ensure there is no mixing of packing material within the same valve.
For questions regarding this notice, please contact:
Ngoc Nguyen
Swagelok Vietnam QMR Assistant
Email: ngoc.hong@swagelok.com.vn
Hotline: +84 936 42 0804