Gaugeable Preswage Tool – Notice of Change
The gaugeable preswage tool is moving from a one-piece body design to a two-piece design except for the sizes noted in the table below, similar to the design used in the standard preswage tool. The new design uses a machined insert that is pressed into a cast body. This will result in an improvement in manufacturing output.
All functional dimensions are remaining the same. However, there will be a visual and physical difference for the tool as shown in the picture below (greater overall length and body diameter). There is no impact to product function.
Ordering numbers will remain the same. Implementation for the change has begun and shipments of the new design will take place throughout October; we will be fully transitioned for the impacted sizes by the end of October. Until the transition is complete, customers may receive either design of the gaugeable preswage tool within October.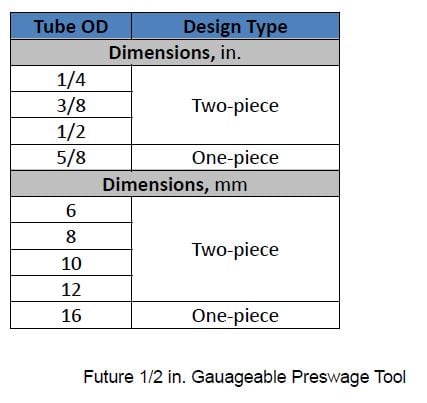 For questions regarding this notice, please contact:
Ngoc Nguyen
Swagelok Vietnam QMR Assistant
Email: ngoc.hong@swagelok.com.vn
Hotline: +84 936 42 0804